A CONVERSATION WITH
LEWIS PERDUE
ABOUT HIS BESTSELLERS

Q. With All the bestsellers you have had, you must be rich, right?
A. I only wish. The problem is that my publisher went bankrupt before I saw most of the money.


WHAT THE CRITICS SAY

"Fine plotting."
"A very well-written, fast-paced novel of cloak and dagger operations that takes part entirely in Italy with all the local color it deserves."
– West Coast Review of Books

SOON TO BE A MAJOR MOTION PICTURE
Read about it in Variety
.


2004 BESTSELLER LISTS:
New York Times
BookSense
USA Today
Northern California Independent Booksellers Association
NEWS
"This is the most blatant example of in-your-face plagiarism I've ever seen.
There are literally hundreds of parallels."
-- John Olsson, Director of the Forensic Linguistics Institute,
quoted in the

New York Post

.



"One 'Da Vinci' has sold millions, the other is little known. Lewis Perdue alleges the popular novel has his book to thank." San Francisco Chronicle

Interview on Good News Broadcasting which offers "affirming and thought-provoking, non-violent, positive news, entertainment and events in English and foreign languages." (Requires RealPlayer)

NEW
BUY LEW'S BOOKS
---

PLEASE SEE THE DAVINCI CROCK BLOG FOR MORE NEWS
---

If your local bookseller has sold out of The Da Vinci Legacy and Daughter of God, please check out Slatewiper,.

Then read the ORIGINAL!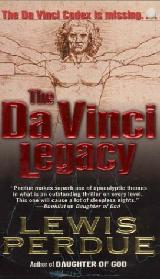 Find out more details about the 2004 reissue of The Da Vinci Legacy.
---
---
Go to Lewis Perdue's Main Home Page, IdeaWorx

Return to Lewis Perdue Home Page

More information about Lewis Perdue | Buy Lew's Books! | Email Lew

Copyright 1981-2004 Lewis Perdue, All Rights Reserved